When Is - Dates of Religious and Civil Holidays Around the World
When is Catholic Easter Sunday in 2011?
Catholic Easter Sunday in 2011 is on Sunday, the 24th of April (24/4/2011).
How are Catholic Easter Sunday dates determined?
Easter Sunday is celebrated on the first Sunday after the ecclesiastical full moon that occurs on or soonest after 21 March, but calculations vary.
This date is observed by Western Christianity - Roman Catholic, Anglican Communion, Protestant Churches, etc. The Orthodox Easter Sunday often occurs at a later date than the Easter date, so many Orthodox Christians in the United States celebrate Jesusí resurrection on Easter Sunday.
Dates of Catholic Easter Sunday by year
Additional services:
Other Christian Holidays in 2011:
Other American Holidays in 2011:
Monthly World Holiday Calendars
"I Love You" Necklaces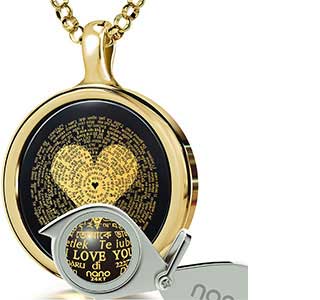 "I Love You"
in 120 Different Languages
<<< Get yours Now >>>